1: THE WOODY POINT WRITERS FESTIVAL
The picturesque town of Woody Point, Newfoundland hosts several festivals throughout the summer, but the most iconic is the Woody Point Writers Festival. Overlooking scenic Bonne Bay and located at the foothills of the Tableland Mountains in Gros Morne National Park, a World UNESCO Heritage site, Woody Point is a dreamy little town. The Western Newfoundland town of Woody Point is a fine place to visit on any day, but during the annual Woody Point Writers Festival, the town comes alive with talent from all over the globe. You don't need to be a writer to appreciate the talent this festival brings. Since the festival's inception in 2004, the Woody Point Writers Festival has consistently sold out despite adding more capacity each year. Hosted annually by the CBC (The Canadian Broadcasting Corporation) the Woody Point Writers Festival brings together artists, writers, and scientists from all around the world and jams them into a high energy six-day event of spoken word, poetry, live performances, and everything to do with writing. If you're planning on attending the 2019 Woody Point Writers Festival you'll need to get tickets early since, like every year, we expect the festival to sell out again this year.
The 2019 Woody Point Newfoundland Writers Festival takes place from August 13th – 18th, 2019.
http://www.writersatwoodypoint.com/
2: THE COW HEAD LOBSTER FESTIVAL IN GROS MORNE NATIONAL PARK
Atlantic Canada is famous for Lobsters. Every spring at the beginning of the Lobster season, it's a tradition in Newfoundland to have a feed of fresh lobster. Spring and early summer is the perfect time of year to enjoy lobster with family and friends, just as the weather is getting warmer and fish harvesters are bringing in their first catch of the Newfoundland spring lobster season. Maybe you already love eating lobster or have always wondered what makes Atlantic Lobster some of the most sought after lobster out there. If you would like to try the best Newfoundland seafood available, the 2019 Cow Head Newfoundland Lobster Festival in Gros Morne National Park is sure to satisfy your appetite for fresh lobster and seafood during this local festival of everything to do with Lobster. Sample various lobster dishes, including BBQ lobster, traditionally boiled in seawater lobster, lobster sandwiches, and our personal favorite, lobster seafood chowder. This super lobster feast is all about celebrating lobster, Newfoundland lifestyle, and community. During the 2019 Newfoundland Summer Festival season consider adding the Cow Head Lobster Festival in Gros Morne National Park to your itinerary. The 2019 Cow Head Lobster Festival runs from June 30th to July 1st, 2019 and is considered to be one of the tastiest Newfoundland Summer Festivals.
3: THE NEWFOUNDLAND ICEBERG ALLY ICEBERG FESTIVAL ON THE GREAT NORTHERN PENINSULA
Where else can you see a 20,000-year-old iceberg just floating by casually in the ocean? Maybe Antarctica or Greenland, but outside of Newfoundland, that's pretty much it. Newfoundland is a top global destination for iceberg watchers, and if you've never seen an iceberg for yourself, you're missing out on a rare experience. Icebergs are all over the place in Newfoundland throughout the spring and early summer. If you're going to be visiting Newfoundland's Gros Morne National Park or The Great Northern Peninsula during the iceberg festival we encourage you to check out the Iceberg Festival.
The north coast of Newfoundland is known as "Iceberg Alley" because of the thousands of icebergs that float down to Newfoundland each year starting in Greenland and then making their way through the Canadian Arctic before drifting south to Newfoundland along the cold Labrador Current. Besides icebergs, iceberg ice in your drink, and iceberg water, The Great Northern Peninsula Iceberg Festival near the town of St. Anthony, Newfoundland offers a whole lot more.
During the 2019 Iceberg Festival you can also enjoy wine tasting, mingle with the locals, and experience authentic Newfoundland culture and hospitality. On your way up the Great Northern Peninsula be sure to check out other popular sites in Gros Morne National Park like Lance Aux Meadows, the Western Brook Pond Boat Tour, and the seals at St. Paul's Inlet. If you will be in Newfoundland on or before the first Friday in June in 2019, plan on visiting St. Anthony during this 10 day festival of icebergs on The Great Northern Peninsula of Newfoundland and Labrador.
The 2019 Newfoundland Iceberg Festival runs from June 7th to 16th, 2019.
FUN ICEBERG FACT:
Icebergs that come to Newfoundland and Labrador originate in Greenland, but did you know it takes icebergs an average of two years from the time they leave Greenland to the time they reach Iceberg Alley in Newfoundland? If you think icebergs are massive when you see them here, imagine how large they were when they broke off the cost of Greenland?
WHY IS THE 2019 NEWFOUNDLAND ICEBERG SEASON PREDICTED TO BE THE BEST?
Since the planet is warming, and this warming is especially pronounced in arctic regions, the largest ice sheets in the world are melting at an unprecedented rate. Antarctica is the largest ice sheet on the planet, and the second largest is Greenland. The amount of freshwater contained in these icesheets is astounding. Combined, the Greenland and Antarctic ice sheets together contain 99% of the earth's fresh water. For two decades almost every summer has been hotter than the last and global temperatures continue to rise year on year. These increased temperatures mean icebergs from our planet's two largest ice sheets are breaking off at a much faster rate. While there's no better time to see icebergs off the coast of Newfoundland, their presence is a stark reminder of climate change and the impact a global temperature increase is having on our planet.
NEWFOUNDLAND FISHERMAN TELLS ICEBERG STORY ILLUSTRATING JUST HOW BIG NEWFOUNDLAND ICEBERGS CAN BE:
Several years ago an iceberg was grounded off the coast of Twillingate, Newfoundland. The iceberg was over 30km long with groups of animals, waterfalls, inlets, and everything else you could dream of. On a sunny and calm spring afternoon our friend, a local fisherman, decided to take his boat around the iceberg. Later that evening we saw him and asked what his trip around the iceberg was like .
"I couldn't make it around" he said. "I didn't have enough fuel. It was more than 100km around". Now that's a big iceberg.

Local Fisherman
WHAT IS A BERGIE BIT?
The smaller ice chunks that break off icebergs are called "Bergie Bits". These iceberg chunks are a superior replacement for ice cubes in your favorite drink. We always keep a few bergie bits and iceberg chunks at Whale House for guests and friends to try in their drinks. Besides being a fun novelty, iceberg ice actually melts slower than an icecube from your freezer, making it perfect for cooling your scotch or mango juice on a hot summer day.
Want to know where Newfoundland icebergs are right now? check out the real time data below from our friends at iceberg finder. you can see real time data on all iceberg locations making it easy to plan your next iceberg watching adventure
4: THE GROS MORNE NATIONAL PARK THEATRE FESTIVAL
Drama and theatre enthusiasts will love the Gros Morne National Park Theatre Festival, guaranteed to please your desire for live plays, acting, and good laughs. With over 150 performances all summer long, taking in a dinner theatre or afternoon play is easy during any trip to Gros Morne National Park. The festival operates in Cow Head, next to Shallow Bay Beach and close to the Gros Morne National Park Western Brook Pond boat tour. This year will be the 24th annual Gros Morne National Park Theatre Festival and will feature a return of the all-time favourite dinner theatre play "Ethie" by Shane Ellis Coates and Neddy Norris Night along with daily music, comedy, and drama. The 2019 Gros Morne Theatre Festival starts in May and has regular showings until September.
Check with the Newfoundland and Labrador Tourism website for information on showtimes and tickets or contact the Whale House Guest House for more information on summertime events in Gros Morne National Park.
5: OCHRE FEST
Ochre Fest is a smaller festival that takes place in Ochre Pit Cove, Newfoundland, just North of Bay Roberts and Carbonear. This festival pays tribute to authors from all over Newfoundland and Labrador, local music, visual art, and of course, great food and wine. Ochre Fest has been an annual event since 2013. If you like storytelling, intimate live music, and Newfoundland folklore, this small summer Newfoundland festival is something you'll want to check out. If you like storytelling, intimate live music, and Newfoundland folklore, this small summer Newfoundland festival is something you'll want to check out.
The 2019 Newfoundland Ochre Festival takes place from June 20 to June 23, 2019.
6: THE ANNUAL WHALE FESTIVAL AT CAPE SPEAR NEWFOUNDLAND
It's fitting this annual festival of Newfoundland whales takes place at the Cape Spear National Historic Site, the most easterly point in North America. Watch for Humpback Whales in the Atlantic Ocean as they migrate past Cape Spear on their way to the Witless Bay Marine Ecological Reserve near Mobile Bay, a top international whale watching destination. Because Cape Spear has an elevated coastal boardwalk, accessible parking, and plenty of open North Atlantic Ocean lookouts, it's easy for everyone to access this National Historic Site.
The Newfoundland Whale Festival at Cape Spear is popular with photographers, families, children, and seniors. Cape Spear has plenty of parking and the views are incredible. Be sure to stop in for coffee, tea, and snacks at the Cape Spear National Historic Site Lighthouse during your adventure. If you're looking to go further and explore more, there are many beautiful nature trails in and around this area. When exploring Cape Spear, be sure to obey trail closures and stay on the marked paths since this area is prone to high seas, big waves, and strong winds.
This year the 2019 Cape Spear Whale Festival takes place on June 24, 2019.
7: THE RISING TIDE THEATER FESTIVAL
Another great Newfoundland summer festival for those who love drama, acting, and live theatre is The Rising Tide Theatre Festival in the town of Trinity. Newfoundland has a rich history of theatre and the Rising Tide Theater showcases some of Newfoundland's greatest acts. You can catch a show from the Rising Tide Theater Company all summer with daily performances between June and September 2019. The Town of Trinity, located in Trinity Bight, Newfoundland, just north of St. Anthony on The Great Northern Peninsula offers the perfect venue for this Newfoundland summer festival. It's easy to incorporate a stop at Rising Tide Theater during your adventure to Gros Morne National Park and The Great Northern Peninsula.
The 2019 Rising Tide Theatre Festival takes place from June 1st to September 30th, 2019.
8: YUK IT UP AT THE ANNUAL WOODY POINT COMEDY FESTIVAL
If you like it funny, and we're talking side-splitting comedy, you're in for a treat at the annual Comedy Festival in the Town of Woody Point, Newfoundland. Woody Point is a small town in Gros Morne National Park that's perfectly situated on the deep ocean inlet of Bonne Bay. The Tableland Mountains in the backdrop add to the mystique and drama. Woody Point is home to several world-class Newfoundland summer festivals with the Woody Point Comedy Festival being no exception. Rotating acts, surprise guests, and gut-busting laughter are all part of the fun. The Newfoundland summer comedy festival paints grins on the faces of everyone in attendance.
This year the 2019 Woody Point Comedy Festival takes place from July 10th to 20th, 2019 at the Woody Point Heritage Theater in the town of Woody Point, right in the heart of Gros Morne National Park.
9: THE FIFTY CENTURIES HERITAGE FESTIVAL IN BIRD COVE
Another great family-oriented Newfoundland summer festival, the Bird Cove 50 Centuries Heritage Festival, is specifically oriented towards families and children. This Newfoundland summer festival celebrates local heritage and culture with fun activities including campfires, museum tours, hikes, and traditional Newfoundland music. The museum tour takes you 5000 years back in time giving participants a new perspective on Newfoundland and Labrador. Learn about the Basques, English, and French that fished this area along with archaeological discoveries the Bird Cove Archaeological Exploration Site explains.
This summer 2019 Fifty Centuries Heritage Festival in Bird Cove Newfoundland takes place throughout the community from July 12th to 15th, 2019
Bird Cove 50 Centuries Heritage Festival
10: THE BRIMSTONE HEAD FOLK FESTIVAL ON FOGO ISLAND
This Newfoundland outdoor summer music festival takes place on one of the most famous islands off the Newfoundland coast, Fogo Island. The Brimstone Head Folk Festival has an outdoor music stage at a spot called Brimstone Head which the Flat Earth Society considers one of the four corners of the earth.
The festival is entirely dedicated to Newfoundland music, and the venue is out of this world. Visiting Fogo Island itself is a top-notch experience. Fogo Island is the largest offshore Newfoundland island with roots and traditions stronger than most places. Well-preserved churches, colourful fishing stages, saltbox houses, and Orangeman lodges can be found around every corner on Fogo Island.
The Fogo Island Inn is a popular international destination and 5-star hotel that has hosted celebrities, presidents, prime ministers, and all sorts of people who are looking for a unique luxury experience. If you like the vibe at Whale House Guest House you're going to adore the inn on Fogo Island. Spending a night at the Fogo Island Inn or booking into a traditional home on the island is a great way to immerse yourself in the experience.
Fogo Island is littered with artist retreats, modern architecture that plays different musical notes depending on which way the wind blows, and luxury accommodation blended with traditional living and lifestyle. Visiting Fogo Island will make you feel like you're in a fairytale you never want to end.
The 2019 Brimstone Head Fogo Island Folk Festival takes place from August 9th to 11th at 5 Bank's Cove Road, In the community of Fogo on Fogo Island.
11: THE ANNUAL STRAWBERRY FESTIVAL IN DEER LAKE NEWFOUNDLAND
Did you know strawberries are one of the most nutrient-dense foods you can eat? Sadly, most strawberries we buy at large chain grocery stores are bland and lacking flavour, but not the local strawberries in Newfoundland. If you're a strawberry lover, you already know just how delicious local in-season strawberries can be, and the Deer Lake
Strawberry Festival is the place to be if you're looking for tasty local Newfoundland strawberries. The 2019 Deer Lake Strawberry Festival is actually the largest summer festival in Western Newfoundland and also the longest-running, with the first one ever taking place in 1984.
This relaxed Newfoundland summer festival is a fantastic pit-stop during your exploration of Newfoundland's West Coast. The Town of Deer Lake has the closest international airport to the city of Corner Brook and is located at the southern entrance of Gros Morne National Park. Besides strawberries, the Deer Lake Strawberry Festival features lots of live music along with slides, rides, and kids' games. On the last day of the Deer Lake Strawberry Festival, everyone enjoys an elaborate fireworks show.
The 2019 Deer Lake Newfoundland Strawberry Festival takes place July 19th to 21st, 2019 in the town of Deel Lake, Newfoundland.
The Deer Lake Newfoundland Strawberry Festival
12: THE BONAVISTA DAYS FESTIVAL
Another Newfoundland summer festival filled with music and food is the Bonavista Days Summer Festival in Bonavista, Newfoundland. The Town of Bonavista is a historic and colourful community on the north-east coast of Newfoundland close to Dungeon Provincial Park. Many visitors to Newfoundland choose to spend a day exploring the area in and around the town of Bonavista during their Newfoundland vacation. If you can time your visit to Bonavista with the Bonavista Days Festival you'll have lots to see and do during your Bonavista Newfoundland adventure.
The 2019 Bonavista Days Newfoundland Summer Festival is on July 26th to 28th, 2019 in the town of Bonavista, Newfoundland.
13: THE TWILLINGATE FISH, FUN, AND FOLK FESTIVAL
These three words form the backbone of Newfoundland culture so it's no surprise the Fish, Fun, and Folk festival is named after them. Located in
the town of Twillingate, a Newfoundland heritage community and international iceberg watching hub, this festival gets bigger and bigger every year. With so much to see and do throughout this week-long festival, there's something for everyone. During the Twillingate Fish, Fun, and Folk Festival, the entire town hosts a plethora of events, from historic exploration to live music, boat tours, wine tasting, local food scoffs, and just about anything else you can think of. The town of Twillingate is picturesque and a great place to visit during your adventure to iceberg alley.
The 2019 Twillingate Fish, Fun, and Folk Festival is on July 26th to 28th, 2019 in the town of Twillingate, Newfoundland.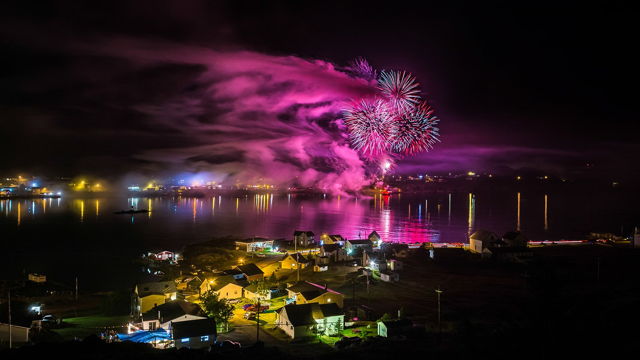 14: THE FOLK, SONG, AND DANCE FESTIVAL ON THE BURIN PENINSULA
There's no music like folk music, and that's especially true in Newfoundland. Almost everyone here has a musical talent and folks in Newfoundland tend to pour their heart and soul into every performance. The Folk Festival on the Burin Peninsula is one of many folk music and folk art festivals that take place throughout Newfoundland and Labrador each summer. Hear music and stories about adventures at sea, love that was lost, and love that was found.
Take part in the silent auction and join in on dozens of fun and exciting activities at the Folk, Song, and Dance Summer Festival on Newfoundland's Burin Peninsula. As with all Newfoundland folk music and folk art festivals, there is always lots of local food and drink to sample during the event.
The 2019 Burin Peninsula Festival of Folk, Song, and Dance is on July 5th – 7th, 2019 at the Donald C. Jamieson Academy on main street in the town of Burin, Newfoundland.
The Folk Song and Dance Festival
15: THE ANNUAL ST. JOHN'S NEWFOUNDLAND GEORGE STREET FESTIVAL
If you've heard anything about the city of St. John's, you probably already know about George Street, the biggest little bar and pub street in Canada. George Street isn't very long, it barely stretches two city blocks, but packed into that area are over 30 pubs, bars, and restaurants. Throughout the summer, every night on George street is a party, but during the St. John's George Street Festival, the partying elevates to a whole new level. At the St. John's George Street festival the street is blocked off to vehicles with party goers, beer drinkers, and music lovers spilling out into the streets for a week-long festival of music, rock and roll bands, and general debauchery. If you want to party during your visit to St. John's, George Street is a hit on any night, but if you really want to get your party on, be sure to time your visit with the George Street Festival.
This 2019 George Street Festival is on August 1st to 7th, 2019 in St. John's, Newfoundland.
St. John's George Street Festival
16: THE ST. JOHN'S NEWFOUNDLAND BUSKERS FESTIVAL
This midsummer festival runs concurrently to the George Street Festival, making visiting the Capital City of St. John's during this time doubly exciting. The Busker's Festival features top street performers from all over the world that come to St. John's Newfoundland for just a few short days to showcase their talents in the streets of the capital city, and the talent pool at the St. John's Buskers Festival is top-notch.
The St. John's Buskers Festival features musicians, acrobats, magicians, contortionists, tricksters, mimes, people riding unicycles while juggling flaming clubs, fire breathers, clowns, comedians, and just about every other street performance act you can imagine. Attending the festival is free, and the performers get paid by donation, so be sure to bring handfuls of toonies, loonies, and five-dollar bills to honour your favourite performers with. The festival is perfect for families, small children, seniors, and everyone else. Spend your time wandering the streets and enjoying the performances that most catch your eye.
See a little bit of everything during the 2019 St. John's Newfoundland Buskers Festival from August 9th to 11th, 2019.
17: THE SHAMROCK FESTIVAL ON THE SOUTHERN AVALON PENINSULA
It's no secret the Southern Avalon Peninsula has strong Irish roots. Often times when locals from this area travel abroad they're mistaken for being Irish because their accent and dialect are similar. This Newfoundland summer music festival takes place in the town of Ferryland, just 30 minutes south of Mobile Bay and the marine protected zones of the Witless Bay Marine Ecological Reserve. Get ready for Celtic and Irish-inspired song, dance, art, and folklore. Internationally recognized as one of the top Newfoundland traditional music festivals, if you like Celtic and Irish music this summer music festival needs to be on your shortlist.
The 2019 Southern Shore Shamrock Festival is on July 27th and 28th, 2019 in the town of Ferryland.
18: THE LABRADOR BAKEAPPLE FESTIVAL
Bakeapples, also known as cloudberries, are famous in Newfoundland. They grow in the marsh, making them more challenging to harvest than other berries, but they're worth it. Bakeapples can be eaten just the way they are (our personal favourite), made into jam, baked into a pie, served on top of pancakes, and made into wine. Bakeapples grow all over Newfoundland and Labrador, but they're especially prolific in Labrador. If you've always wanted to visit the big land of Labrador, you now have another reason to go. With the new highway and ferry service available daily throughout the summer from St. Barbe Newfoundland, you really have no excuse to omit a visit to Labrador during your trip through Gros Morne National Park and up the Great Northern Peninsula. Choose to visit for a few days and take in the rich history of the south Labrador coast or go further and explore more along the new Labrador highway that connects southern Labrador with Goose Bay.
The 2019 Labrador Bakeapple Festival takes place along the southern Labrador coast throughout the middle of August during prime bakeapple picking season.
19: THE OLDEST FESTIVAL AND SPORTING EVENT IN NORTH AMERICA, THE ST. JOHN'S ROYAL REGATTA FESTIVAL
If you've ever wondered what the oldest running festival is in North America, it's the St. John's Newfoundland Royal Regatta Festival. This festival and the annual sporting event has been running each year since September 22nd, 1816. The 2019 St. John's Regatta Festival will be the 203rd anniversary of this historic St. John's summer festival. The Regatta Festival was originally started to honour the coronation of King George the Third. The St. John's Regatta is a rowing race that takes place on Quidi Vidi Lake in St John's. What's great about the St. John's Regatta is even if you're not into rowing you're going to have a great time. The Regatta Festival is packed with entertainment including games, gambling, international food tents, (including amazing Indian food which we can't seem to get enough of), activities for kids, music, clowns, buskers, and performers of every type. It's even an official holiday in the town of St. John's, so all the businesses shut down for the day and more than 50,000 locals swarm to Quidi Vidi Lake for a day of fun.
This year the 2019 St. John's Newfoundland Royal Regatta Day is on Wednesday, August 7th, 2019
If you're lucky enough to be around the capital city of St. John's during this time, be sure to check out the St. John's Royal Regatta Festival. Most likely the St. John's Regatta Festival will be one of the highlights of your Newfoundland 2019 Summer Festival Tour.
20: THE TOWN OF BRIGUS ANNUAL BLUEBERRY FESTIVAL
You've probably heard blueberries are considered a superfood that's incredibly high in antioxidants. They're good for your cardiovascular health and many believe they can ward off things like dementia, Alzheimer's and cancer. Blueberries are also high in micro-nutrients and vitamins such as K and C, but did you know Newfoundland wild blueberries are amongst the highest quality blueberries in the world? Because of the Atlantic climate and make-up of the Newfoundland coastline, wild Newfoundland blueberries have a higher antioxidant, vitamin, and micro-nutrient profile when compared with cultivated varieties grown in other parts of Canada. Collecting blueberries has been a Newfoundland tradition ever since people have lived along the coast, not to mention a tasty and fun tradition.
Blueberries are prolific in Newfoundland. It's no problem to find a coastal meadow during blueberry season and eat your fill while sitting in one spot. The Brigus Newfoundland Blueberry Festival celebrates everything to do with Newfoundland blueberries. The festival is family-oriented and features games, live music, spoken word performances, and of course, wild Newfoundland blueberries.
This summer 2019 Brigus Newfoundland Blueberry Festival is in August 1st to 31st, 2019 in the town of Brigus, Newfoundland.
BONUS FESTIVAL: Roots, Rants & Roars
Roots, Rants, and Roars is a fall festival that takes place in Elliston, Newfoundland. The festival features top chefs from across Canada and local Newfoundland chefs–a regional celebration of Newfoundland and Labrador's food, culture, land and sea.
September 20 & 21, 2019