1: Whale Watching
Lot's of places in the world offer a chance to catch a glimpse of a whale, but in Newfoundland you can see hundreds of whales before even getting on the water. With thousands of whales visiting coastal Newfoundland to feed and have babies each summer, it's easy to see humpback whales, mikie whales, and even orcas (lovingly referred to as killer whales). Marine biologists come here from all over the world to conduct whale specific research and learn more about these large ocean mammals. One of the best paces to do this is just 30 min from St. John's in the Witless Bay Marine Ecological Reserve where you can join a relaxed boat tour through humpback whale feeding grounds or get up close and personal on a whale watching and paddleboarding adventure.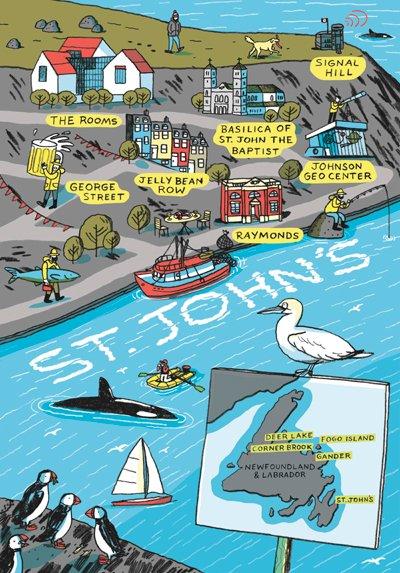 2: Explore St. John's
The City of St. John's is the oldest city in North America and Newfoundland is the youngest Province to join the Canadian Confederation, making it no wonder why the culture and heritage in so distinct and well preserved. You can do a lot during a day trip to St. John's, like visiting Signal Hill to spot icebergs and pick blueberries, explore the colorful architecture of the city center, and wetting your whistle on the world famous George Street, home to the largest concentration of pubs on any street in Canada.
3: The Room's Museum and Archives
Even if you're not a museum aficionado, you're going to have a great time at The Rooms. Easy to spot along the St. John's skyline, the museum is the hyper-modern glass building next to the Cathedral overlooking the St. John's downtown core. Aside from having world class exhibitions by top artists in all mediums from all around the world, The Room's also has a permanent Beothuk and natural history exhibit complete with a giant squid and real whale skeleton. The rooms also has a cafe on the upper level sporting what we consider to be the best view of the downtown core.
4: Witless Bay Marine Ecological Reserve
5: East Coast Trail
6: Fork Restaurant
7: Tor's Cove Fairy Door Walk
8: Micro-Brewery
9: Cannabis Dispensary
10: Chill Out for a Day
It's easy to jam pack your visit to Eastern Newfoundland, so be sure to give yourself at least one down day. Find an outdoor hot tub with a great view, relax with your favorite beverage, and take a moment to appreciate where you are. It might end up being the best day of your entire Newfoundland vacation.